Attention All Wildcat Families! Hopefully everyone is enjoying their summer break! The 2021-2022 school year is right around the corner. Please see the attached flyers for health requirements that will be due the FIRST DAY of school!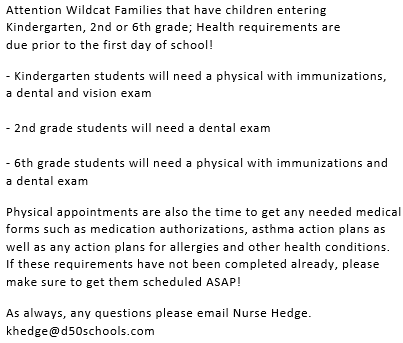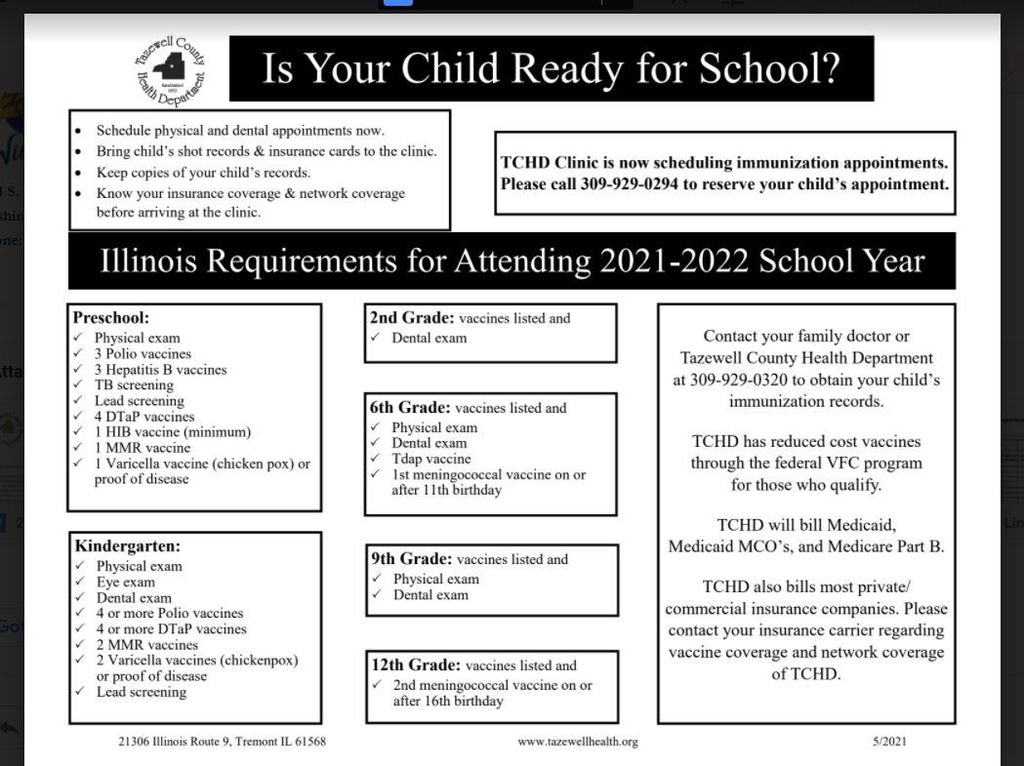 Congratulations to the following girls who earned a spot on the D50 Softball team! Adalynn Meeks Katelyn Heubi Grace Mordhorst Audrey Taylor Izzy Ensign Aaliyah Fries Alyssa Meyer Jacey Hawkins Jill Black-Lester Nyla Brock Lexi Force Addison Mordhorst Macy Hyatt Go Wildcats!

Attention Wildcat Baseball hopefuls, Coach Pacelli and Coach Price will be holding tryouts for all incoming 6th, 7th, and 8th-grade boys interested in baseball at the Beverly Manor baseball diamond on Monday, Tuesday, and Wednesday (3 dates: Aug. 2nd-4th) from 3:00-5:00 pm. Athletes must: (1) Have a sports physical on file with the school and (2) have registrations fully completed. Best of luck during your tryouts!

Wildcat Families, Just a reminder to get scheduled into our Sports Physical Clinic on August 3rd if your student is even considering participating in a school sponsored sport!! Having the physical done will be one less thing to worry about when they decide to participate last minute! Sports physicals are good for 395 days so it will be good through the beginning of next school year as well!
https://forms.gle/eXgAdLrvK8VZWzwbA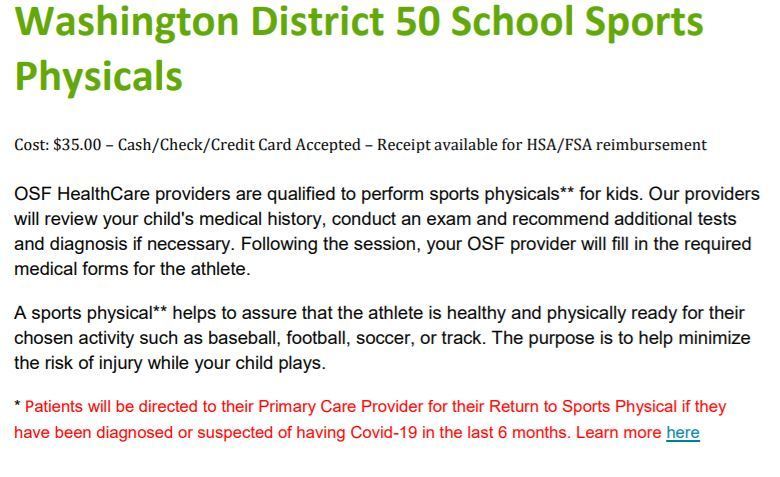 Wildcat Families! Join us on Tuesday, August 3rd from 10:00am-1:00pm at Hensey on the playground as we welcome Dream Center Peoria. Dream Center will be bringing a mobile hair salon for free cuts for students! They are also bringing their mobile food van and grill and will have clothing items available too! Contact Mrs Miller at
[email protected]
with any questions!


Softball update: 5th grade tryouts, 6th-8th grade practice, and parent meeting for tonight have been cancelled due to weather. We will move it to Friday, July 30th, 3:00-4:30 (parent meeting directly after). Any questions please contact Coach Lyles or Coach Brasher.

Attention All Wildcat Families! As crazy as it sounds school starts in a little over 1 week! Please remember all medical forms are due prior to the first day of school. See the attachment to determine if/what your student may need. Any 7th grade students that were remote learners last year will need to turn in medical forms as well if not already done so! As always don't hesitate to reach out to Nurse Hedge @ D50schools.com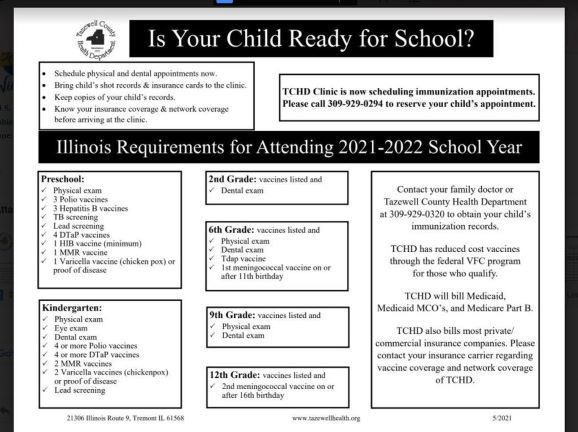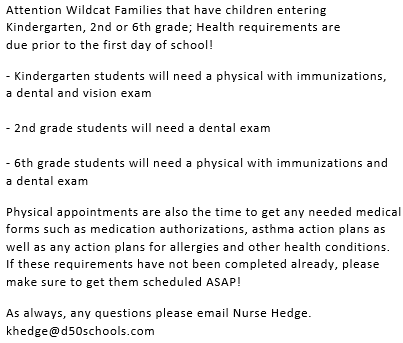 Attention Any and All D50 Families that still need a sports physical!! Tuesday August 3rd we will be offering another sports physical clinic with OSF at John L Hensey! Be on the lookout for a survey to schedule your student for this clinic later on today! Remember the cost is $35 but can be submitted for reimbursement. Also please note that if you student has tested positive for COVID19 in the last 6 months they will need to be seen by their primary doctor to be released to participate in sports. Reach out to Nurse Hedge @
[email protected]
for any questions or concerns.

Attention Kindergarten Parents- We wanted to let Kindergarten parents know that Kindergarten back to school night/supply drop off will be held on Tuesday, August 10 from 6pm-7pm. Classroom lists/rosters will also be posted on this date to notify you of your child's teacher. We will start the evening off in the John L. Hensey Gym for a short meeting with the staff and Mr. Zaiser. After the meeting in the gym parents will head to their child's teachers room. During this time the teachers will inform you of what to expect for the upcoming school year as far as expectations and procedures for your kindergartener.

Hello Wildcats, The school year is quickly approaching for District 50 Schools. 1st-8th-grade students start school on Monday, August 9th for a half day of student attendance and kindergarten students will start Thursday, August 12th for a full day of student attendance. Our Back to School Supply Drop Off Night will be Thursday, August 5th from 5:00-6:15 at both buildings and masks are recommended for all attendees. Students and their families will be able to view their homeroom teachers and drop off supplies before their first day of school. In order to finalize homerooms, students should have their registrations completed, 3 residency forms submitted, and any immunization or school physical requirements completed. Please have these steps completed by August 5th because the portal and our building offices will be closed Friday, August 6th.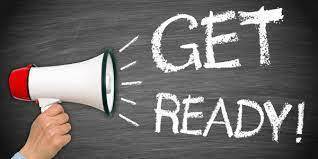 Attention all 5th graders interested in playing softball: We are opening up tryouts to 5th grade to fill a few spots on our team. Tryouts are Thursday, July 29th 3:00-4:30. *You must have a sports physical on file or bring one to the tryouts. The team will be announced and a player/parent meeting will be held after tryouts @4:30. If you have any questions, please contact Coach Lyles or Coach Brasher.


ATTENTION KINDERGARTEN PARENTS: Kindergarten students will start Thursday, August 12th. This will be a full day of attendance from 8:15-2:45. 1st through 3rd will be starting school on Monday, August 9th. This will be a half day of attendance - 8:15-11:30. ECE PM will start on Thursday, August 12th from 12:30-3:00pm.

Good morning Wildcat families! While the posted week for registration has ended, both building offices are open to assist new or returning student families with registration from 8:00-3:00 each day this week. You can either complete the registration via the Skyward portal from home or stop in if you need assistance. When submitting your registration, please remember to bring your 3 documents for proof of residency or upload them online if you are registering from home. These documents need to be submitted before completing a student's registration. The start date for 1st-8th graders is quickly approaching on August 9th so don't hesitate and register today. Skyward Registration Page:
https://skyward.iscorp.com/WashingtonD50ILStuSTS/Session/Signin?area=Home&controller=Home&action=Index
Overview of Residency Document Examples:
https://5il.co/t4gh

Calling all 6th-8th graders! If you have ever had an interest in softball, join us for tryouts Monday, July 26th and Tuesday, July 27th from 1:00-3:00. You will need a sports physical on file before tryouts begin. Come be apart of a great team! We would love to have you 💙💛 Go Wildcats! 🥎💙💛

Good morning, Wildcats! Don't forget Crossroads Church in Washington is having a school supply giveaway this morning. Still have many items left! Stop in and see us until noon or while supplies last!

Hey Wildcats, I want to extend a warm welcome to our newest staff member coming aboard our Beverly Manor team. Please join me in welcoming, Jace Mansfield. Jace Mansfield: 7th Grade ELA My name is Jace Mansfield, and I am positively stoked to be the new 7th Grade ELA teacher here at Beverly Manor! My wife Jasmine (Diederich) and son Jett are also thrilled to be a part of the Wildcat family! I enjoy swimming, using my pellet-smoker to make delicious meals, reading, writing poetry, playing video games, and doing all of the above with my friends and family. I graduated from Bradley University in 2017, and Washington Community High School in 2013. I am color-blind, own every single Nintendo console (except the Virtual Boy… we don't talk about that…), and have never had a reaction to poison ivy, despite being a creek-rat. Look for me in my classroom (Room 32) and I'll see you soon!