Good morning Wildcat families! Both building offices are open again today (Friday) to assist new or returning student families with registration from 8:00-3:00. You can either complete the registration via the Skyward portal from home or stop in if you need assistance. When submitting your registration, please remember to bring your 3 documents for proof of residency or upload them online if you are registering from home. These documents need to be submitted before completing a student's registration. **If you have already submitted your child's registration with outdated information or missing residency documents then be on the lookout because our school secretaries will contact you via email as soon as possible to gather the missing information. Skyward Registration Page:
https://skyward.iscorp.com/WashingtonD50ILStuSTS/Session/Signin?area=Home&controller=Home&action=Index
Overview of Residency Document Examples:
https://5il.co/t4gh

Washington District 50 School Families, Please visit the link below to review and provide feedback on our proposed return-to- school plan. This link will be open through Friday afternoon for parents to add their comments. Survey Link:
https://forms.gle/LhbPV1sYFNKgh8dEA

D50 Families, A reminder that registration is live! Don't hesitate and check this off your summer list. Returning students can be registered through their guardian's Skyward login (best viewed through a web browser & not the app). *New students must be registered in-person. All students being registered must provide three documents for proof of residency that are either uploaded during the online registration steps or brought into our school offices. For any questions or assistance, please call our offices or stop in during our in-person registration times this week (Mon. Tues., Thurs. Fri. from 8:00-3:00 or on Wed. from 1:00-8:00). Visit Skyward to register now:
https://skyward.iscorp.com/WashingtonD50ILStuSTS/Session/Signin?area=Home&controller=Home&action=Index
Registration Info Page:
https://www.d50schools.com/page/registration-info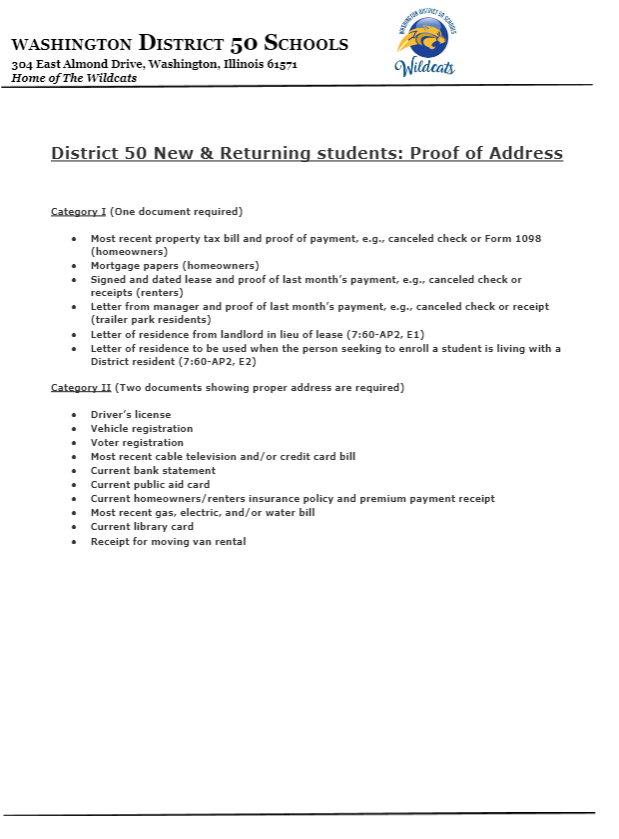 Today is the day!! Sports Physical Clinic at Beverly Manor. Unless you were contacted the appointment time you chose is your scheduled time! I am happy to announce we are able to take some walk-in's today as well! Anytime between 8AM and 1PM, walk in with a parent or guardian and for $35 dollars you can get your sports physical out of the way!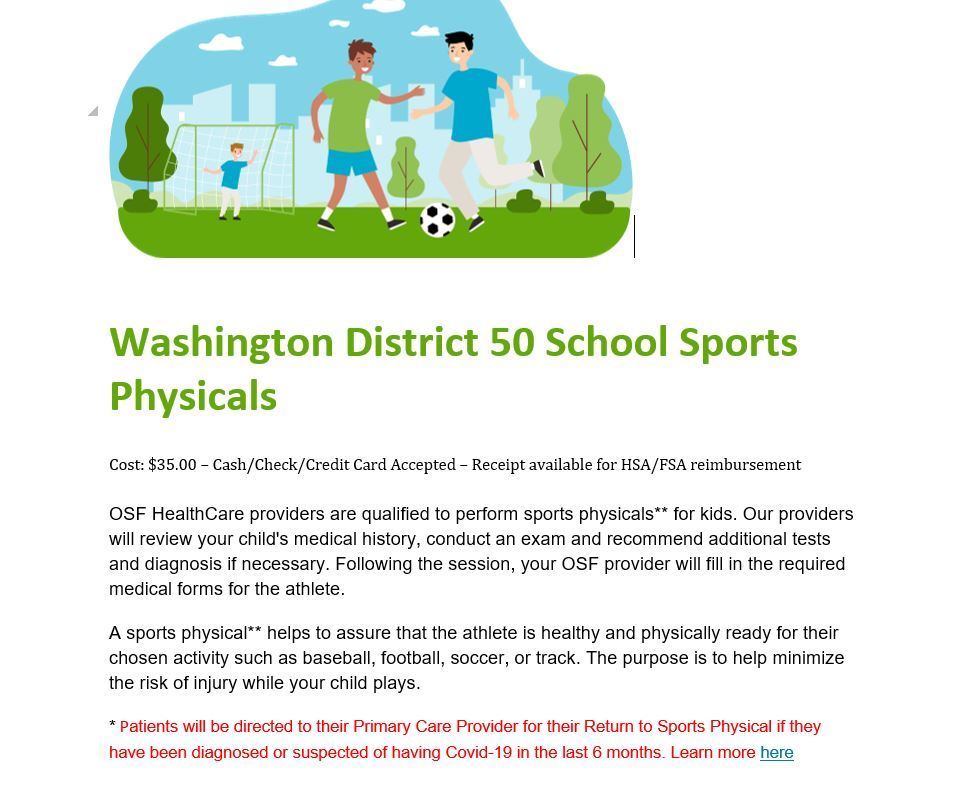 🥎Reminder🥎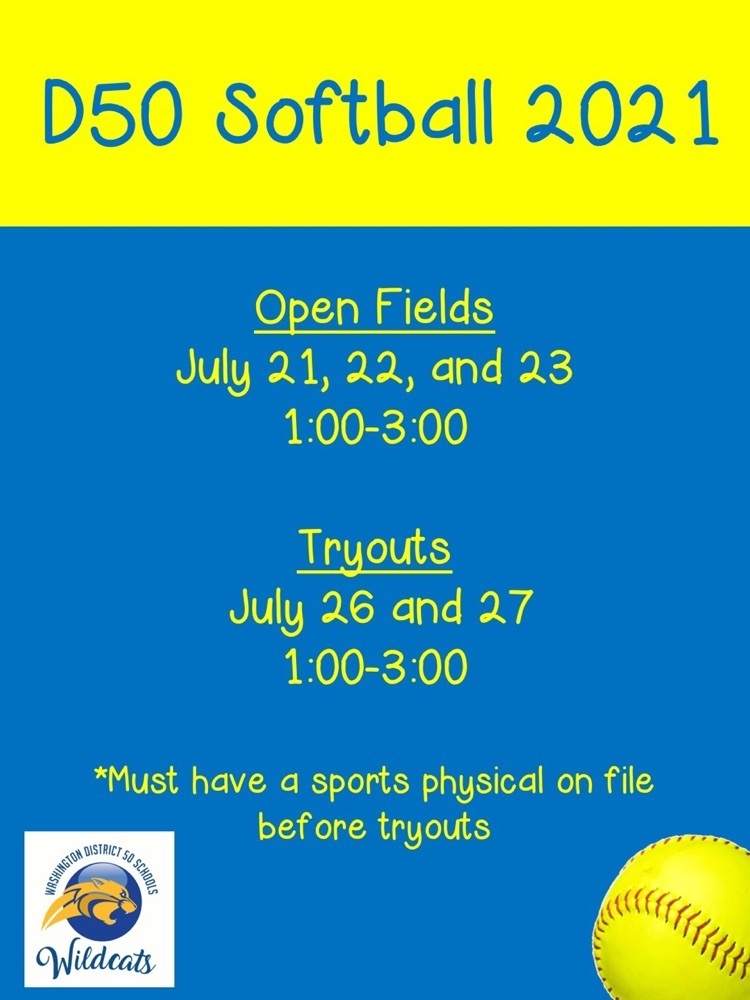 Hello Wildcat Families! I am so happy to report that we have fully booked the Sports Physical Clinic being held at Manor on Monday July 19th! Be on the lookout for another one being held on August 3rd at John L Hensey! Thank you all for taking advantage of this awesome opportunity to help get our students active and involved! Go Wildcats!!

With school starting soon, here is another great opportunity to pick up supplies!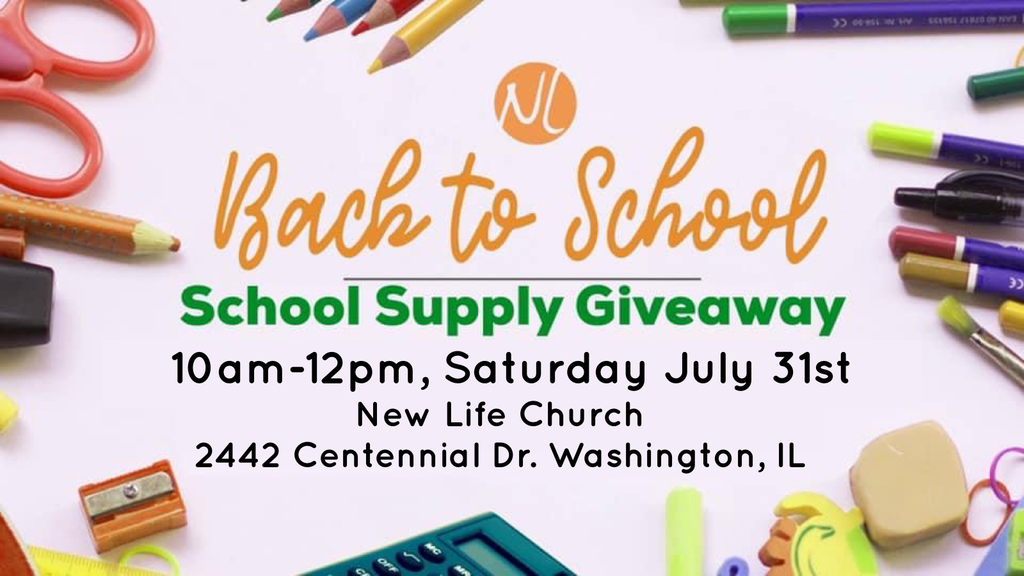 District 50 baseball tryouts will be held Monday, August 2nd, Tuesday, August 3rd, and Wednesday, August 4th from 3:00-5:00. All physicals need to be current and turned in by Friday, July 30 at 3:00 to be eligible to participate in tryouts.

Manor athletes and families, If you still need to have your sport's physical completed, we have you covered. Use the linked form below to sign-up for a time slot to have a sports physical completed on-site at Beverly Manor. Thank you to the OSF team for offering this resource. Sign-Up Form:
https://forms.gle/GaQDUNDArinGUNet9
Contact Kellie Hedge for additional questions at
[email protected]

If your student wants to try out for any school related sports a CURRENT sports physical must be on file prior to try-outs. Don't have this done yet, no worries! The first Sports Physical Clinic will be held Monday 7/19 at Beverly Manor from 8-3. Be on the look out for a survey to sign up for specific times. This is a great and easy opportunity to get those sports physicals out of the way! Cost is $35 but can be submitted for reimbursement. Any questions please reach out to Nurse Hedge @
[email protected]

Hey WIldcats, I would like to extend a warm welcome to our newest staff members coming aboard our Beverly Manor team. Please join me in welcoming them aboard. Amber Waddell: 4th Grade Teacher Hello! I am Amber Waddell and I am excited to join the Washington District 50 family! I graduated from Bradley University with a major in elementary education and special education. I have been a teacher for nine years. In my nine years of teaching, I have taught special education for five years and fourth grade for four years. I am currently enrolled at Western Illinois University completing my master's degree in curriculum and instruction. When not teaching, I enjoy spending time with my husband, Caleb, and my two daughters. Faye is two and Gabriella is three months old. We spend a lot of time outside and we enjoy baking on rainy days. Samantha Sopko: 5th Grade Teacher Hello! This is the start of my fifteenth year of teaching with the last ten years being at Central Intermediate School where I taught mostly fourth grade and coached volleyball. I am originally from Washington and graduated from D50 and WCHS. I have a wonderful husband Tom, one son, Tommy, who will start his 8th-grade year at Germantown Hills, 2 labs, Brutus and Bella, and one guinea pig, Chocolate. 😁 I'm looking forward to a great year and happy to be a Wildcat again!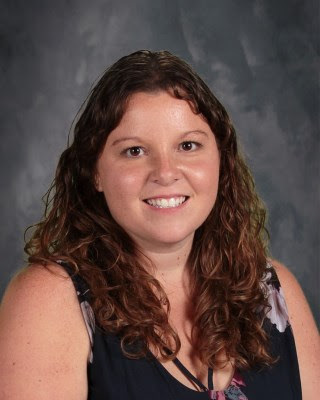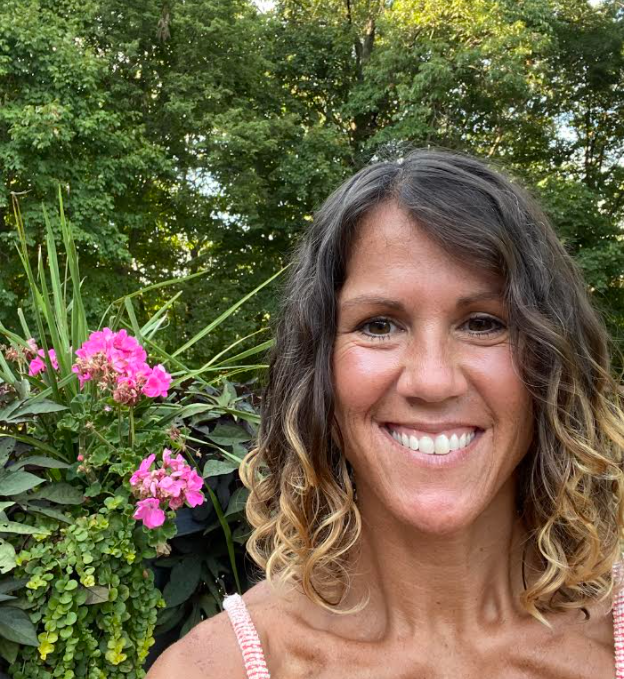 District 50 Families, While we don't wish to rush your summer, how about checking off an item on your To-Do list? Registration for returning students is officially open via the Skyward portal on our Registration page (
https://www.d50schools.com/page/registration-info
). Visit the page for detailed information about necessary items to have handy. Quick notes: - Please note that proof of residency documents can be uploaded during the online registration process *(No worries if you get stuck, we are happy to accept copies or make copies for you during one of our in-person registration dates below) - If you would like to email proof of residency documents please direct them to
[email protected]
(Hensey) or
[email protected]
(Manor) - Use the Forgot Password link on Skyward to have a reset link sent to your email address if you do not recall your previous password. In-person registration dates for returning & new students are July 19, 20, 22, and 23 from 8:00 am - 3:00 pm at both buildings and also on July 21st from 1:00 pm - 8:00 pm at both buildings. Our first day of school is August 9th and the quicker we can finalize registrations, the quicker we can provide info on classroom placements to families. In addition, plans for a back to school event are being discussed and will be shared at a later date. Enjoy your day and stay dry!

District 50 announces the following vacancy: Middle Grades Math Teacher at Beverly Manor School Visit our employee portal on
www.d50schools.com
to apply.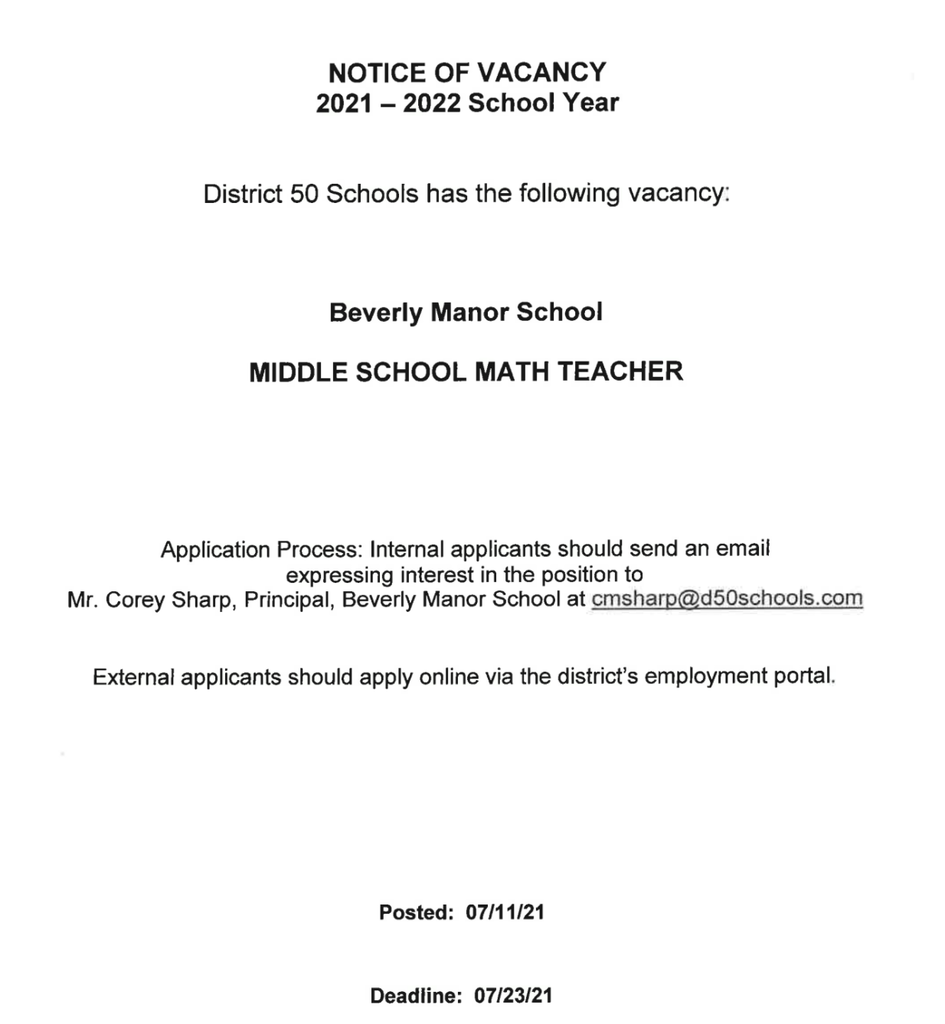 Here is some help for those costly internet bills: A new federal program called, Emergency Broadband Benefit is open for eligible families to apply and receive a temporary discount on monthly internet bills. If a household is found eligible, you could receive: - Up to a $50/month discount on your internet service and equipment rentals -A one-time discount of up to $100 for a laptop, tablet, or desktop computer (with a copay of $10-$50) A household can qualify if at least one member: -Participates in a federal assistance program like SNAP or Medicaid; -Receives benefits under the Free and Reduced-price school meal program; - Received a Federal Pell Grant during the current year; or - Lost a job or experienced a substantial loss of income during the pandemic To check if you qualify, visit:
https://getemergencybroadband.org/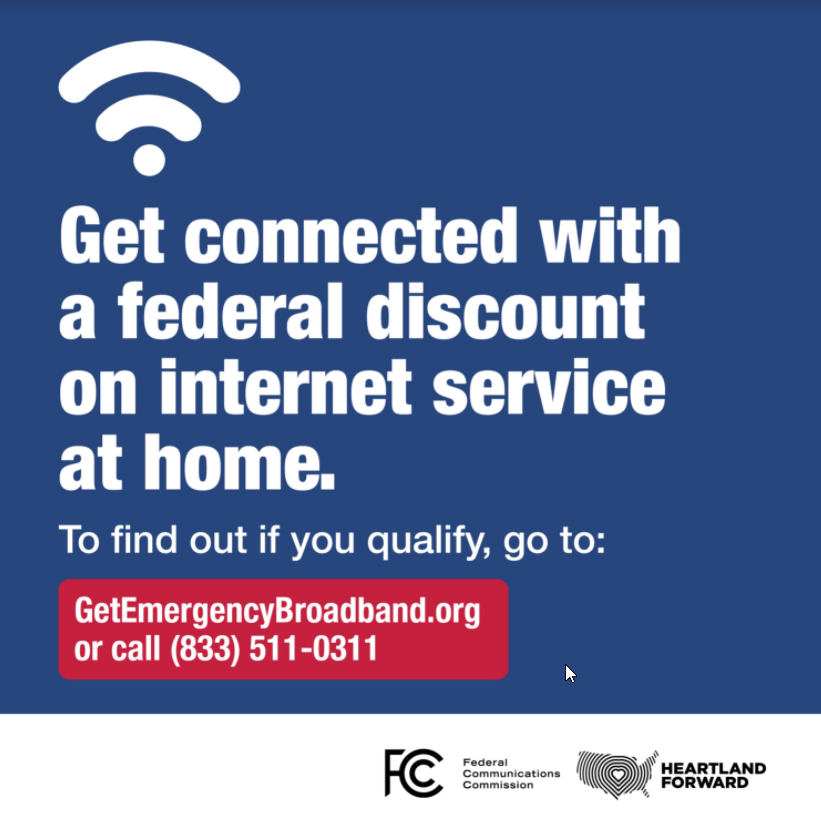 HENSEY PARENTS - When looking at the supply list please look at both sides. We have noticed at Walmart that the 1st grade list is split up on the front and the back. Thank you!!!

Washington families, mark your calendars! Crossroads UMC is hosting a school supply giveaway for all Washington students on Saturday, July 24th from 9:00 am to 12:00 pm. Save the date and get those supplies ready for our August 9th start date!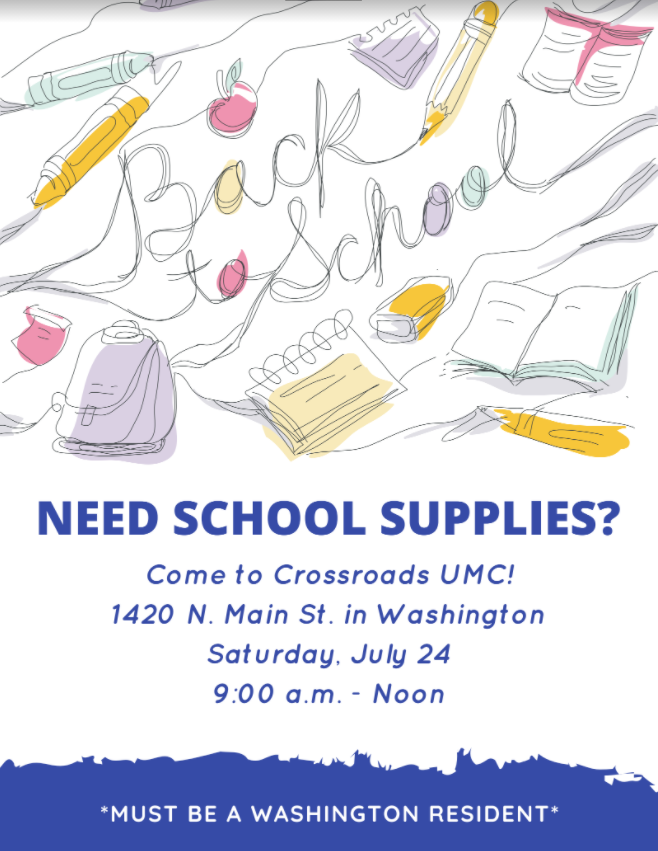 Please remember if your student wants to try out for any school related sports that a CURRENT sports physical must be on file prior to try-outs. You should have received a survey via email last week in regards to a Sports Physical Clinic being held at Beverly Manor as well as John L Hensey. This is a great and easy opportunity to get those sports physicals out of the way! Cost is $35 but can be submitted for reimbursement. Please complete the survey if you are interested, survey will be open until Wednesday July 7th. Any questions please reach out to Nurse Hedge @
[email protected]