REMINDER: Fall Picture Day is at Beverly Manor TOMORROW, September 4th for all students. You can send your background selection, and package choice with payment to school with your child. You also have the option to pay online for your selection through the Lifetouch site.

Softball at Delavan today at 4:15 Baseball- No game today. EP's schedule did not match ours.

I spy some marching band practice! Is anyone else excited for the Homecoming parade?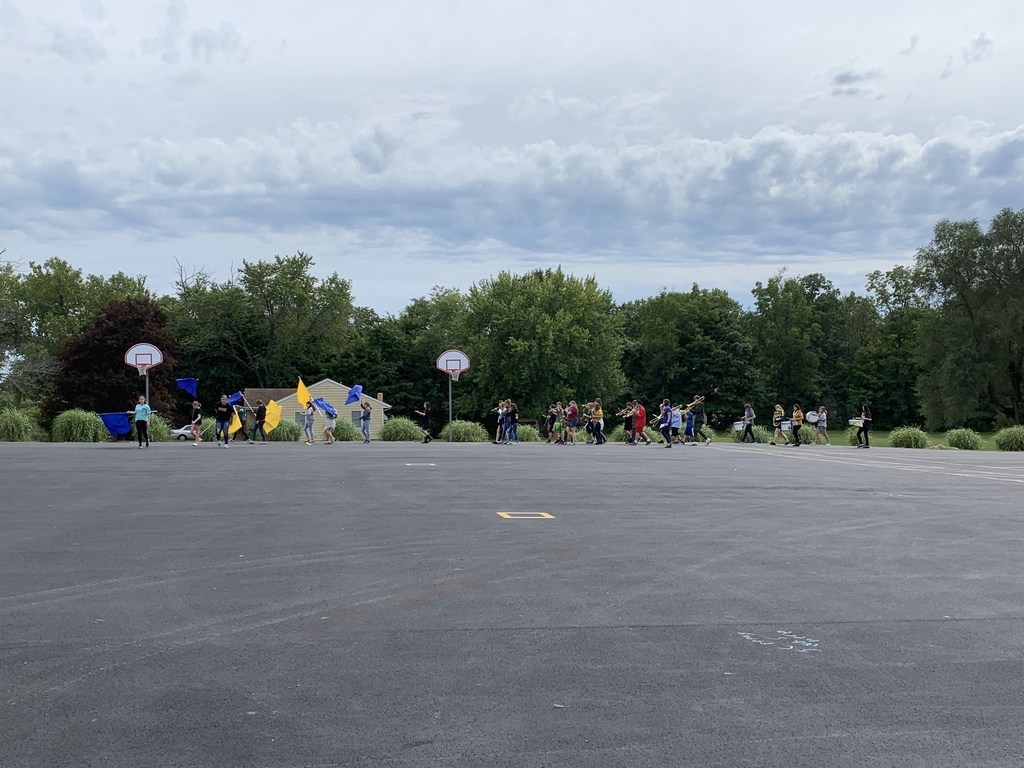 Good morning and Happy Thursday! If you haven't done so already, please download the new app for District 50 schools and set notifications so that you are alerted about news, events, and more. The instructions have been attached. A special note: If your email, phone number, or any other contact information ever changes, please make sure that you update & double check it in Skyward so that our contact list always has the accurate contact methods. Thank you and have a great Thursday!

Update: Boys Baseball on Saturday will be played at 10:00am at Washington Park District Diamond 5. This will be a single game, not a doubleheader as previously planned.

Baseball and softball are back in action tonight! Softball takes on Washington Central at 4:00pm @ Central while the boys head to Peoria Christian to play at 4:15 (Woodruff Field). Looks like a beautiful day to catch a game!

WASHINGTON, ILLINOIS August 28, 2019 PRESS RELEASE On August 27, 2019 a handwritten note containing threatening language was discovered near the main entrance to Beverly Manor School in Washington, Illinois. The note was written on a stationary note card in what appeared to be the handwriting of a student. Officials at District 50 Schools commenced an investigation and contacted the Tazewell County Sheriff's Office upon discovery of the note. After a brief investigation, school officials were able to identify the student responsible. The middle school student admitted writing the note and expressed remorse for the misconduct. While it appears that the student did not intend to carry out the threat, the district and law enforcement take all threats seriously. School disciplinary consequences will be imposed. The matter has also been referred to the Tazewell County States Attorney's Office for juvenile proceedings. School officials urge parents to discuss with their children the importance of telling an adult right away if they hear or witness anyone make a threat toward the school or anyone at school. In addition, parents should reinforce the District message to their children that serious consequences from the school and law enforcement await anyone making such threats. The safety of our students and staff is our top priority.

D50 Wildcats and Peoria Christian played a taut affair on Tuesday, but D50 Wildcats eventually prevailed 29-18. The game was tied at 18 with D50 Wildcats batting in the bottom of the fifth when Katelyn Heubi singled on the first pitch of the at bat, scoring one run. Olivia O'Connell collected five hits in five at bats to help lead D50 Wildcats to victory. O'Connell doubled in the first, tripled in the second, doubled in the fourth, singled in the fifth, and singled in the fifth. D50 Wildcats captured the lead in the first inning when Grace Mordhorst drew a walk, scoring one run. Alana Wilson toed the rubber for D50 Wildcats. She went two innings, allowing six runs on two hits and striking out two. D50 Wildcats collected 16 hits. O'Connell, Joslyn Sullivan, Brooklyn Bowman, and Payton Williams each managed multiple hits for D50 Wildcats. O'Connell led D50 Wildcats with five hits in five at bats. D50 Wildcats stole 16 bases during the game as four players stole more than one. Keyarah Courtright led the way with four.

REMINDER: 1 hour early dismissal Wednesday, August 28th. Beverly Manor students are dismissed at 2:00 p.m. and John L. Hensey School dismisses at 2:30 p.m.

Head on over to Beverly Manor for some baseball and softball action this afternoon! Softball takes the field at 3:30 vs Peo Christian. Baseball at 4:15 vs Lowpoint. Go Wildcats!

Last night's Softball game vs Washington Central has been rescheduled for this Thursday, August 29 @ 4:00 at Central.

Softball game @ Washington Central is cancelled tonight due to field conditions.

Tonight's baseball game at El Paso has been called for rain/field conditions. No baseball game tonight.

Saturday 8/31 Baseball Doubleheader will be played at 10:00am at Washington Park (by Lincoln Grade School) Field 5

Softball tomorrow 8/27 time change- Tomorrow's game vs Peoria Christian will begin at 3:30 due to a scheduling conflict that Peoria Christian has on their end.

Due to a downed line on Stahl St, Bus 11 will be delayed this morning. She is on her way to Manor now then will head back for Hensey pickups. We apologize for the inconvenience.

For Beverly Manor Parents, The drop off and pick up lane has been repaired and is reopened for drop off this morning, August 26th. We will see you soon!

D50 Wildcats fell behind early and couldn't come back in a 14-9 loss to Fieldcrest on Saturday. Fieldcrest scored on a single by #16 and a double by #10 in the first inning. Despite the loss, D50 Wildcats did collect ten hits in the high-scoring affair. Unfortunately, Fieldcrest had 17 hits on the way to victory. Fieldcrest fired up the offense in the first inning, when #16 singled on the first pitch of the at bat, scoring one run. Payton W toed the rubber for D50 Wildcats. She lasted seven innings, allowing 17 hits and 14 runs while striking out five. D50 Wildcats tallied ten hits. Maddie I, Brooklyn B, Olivia O, Joslyn S, and Keyarah C each racked up multiple hits for D50 Wildcats.

Whoa! Thank you to our PTC for that fun filled event tonight. Another thank you to all the parents, staff, cooks, students, and volunteers that made it a blast.